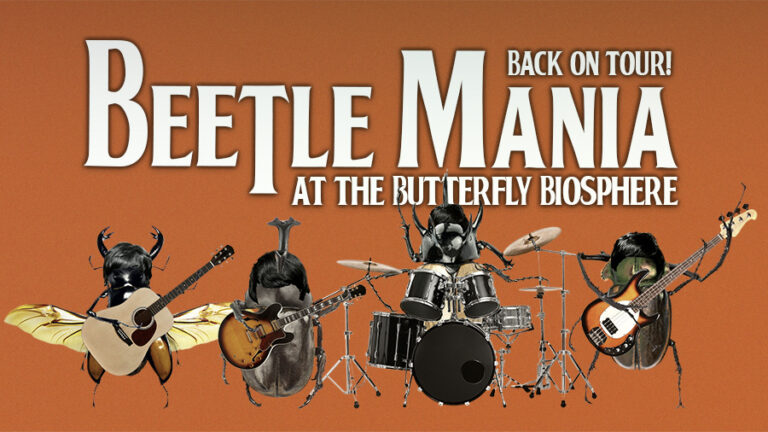 Beetlemania
November 22 – December 16
Beetle-Mania is back at Thanksgiving Point! At the Butterfly Biosphere, giant beetles arrive only 2 times a year – May and November. These 15-18 species are now at the Butterfly Biosphere, and some live only 1-3 months. Visit the Butterfly Biosphere to see a Darkling Beetle, Rainbow Stag Beetle and more!
Admission
EXPLORER PASS
See it all with an Explorer Pass! A Thanksgiving Point Explorer Pass grants admission into all five venues (Museum of Natural Curiosity, Farm Country, Mountain America Museum of Ancient Life, Ashton Gardens, and Butterfly Biosphere) for one day.
Adults: $41
Children ages 2 and under: Free
BECOME A MEMBER
Enjoy free admission to five award-winning venues, including two world-class museums, a butterfly conservatory, a 50-acre garden, and a working farm.
Receive advance purchase opportunities and discounts on popular day camps, youth and adult classes, and special events.
Take advantage of exclusive discounts on dining and shopping, plus receive perks like bringing guests for half-off regular admission.
Every Kid Counts: Admission
With the presentation of an Electronic Benefits Transfer Card (SNAP or WIC) and photo ID, up to six (6) people within the immediate household receive discounted admission. Dependent children are free, and adults in the household are $3 per person.
The Every Kid Counts: Admission program is in association with Museums For All, the signature access program for the Institute of Museum and Library Services and the Association of Children's Museums. Available in person only. Not available for online purchases.
NONPROFIT COMMUNITY GROUPS
We welcome nonprofit community groups to Thanksgiving Point! To learn more about pricing and the reservation process for nonprofit groups, follow the link below.
GROUP PRICING
– Groups of 20+ receive 20% off regular admission prices.
– To receive the discount rate, groups must enter and pay as a group in one transaction.
– Reservation does not denote private experience – this is a public area.
– No amplified music or microphones allowed.
– Valid only during regular hours of operation.
– Blackout dates apply (Luminaria, Tulip Festival, Utah Symphony at the Waterfall, Labor Day Luau, and other special events as scheduled).
Butterfly's First Flight & Lab Tour
Butterfly's First Flight
$4 per person ($3 for Thanksgiving Point members)
Help one of our newly-emerged butterflies spread their wings with this immersive experience! Join our explorers in releasing young butterflies into the conservatory and help a butterfly celebrate its first flight!
Butterfly's First Flights are available Monday-Saturday at 11 am and 5 pm. Guests must purchase in-person at the Butterfly Biosphere Front Desk.
Lab Tour
$20 per person ($18 for Thanksgiving Point members)
Ever wonder what it's like to be an entomologist? Join the team in the lab to learn about what it takes and why it's important to protect insects, invertebrates, arachnids, and more. This behind-the-scenes tour is the most immersive, hands-on experience in the biosphere.
Lab Tours are available every Monday, Thursday, and Saturday at 1 pm. Ticket purchases close one hour prior to the tour.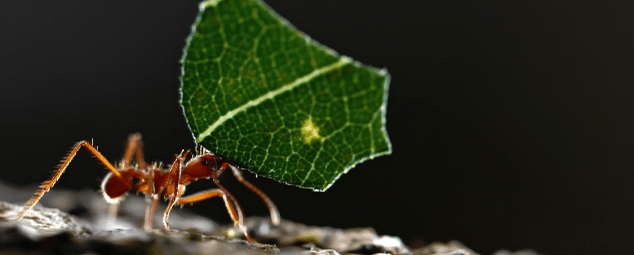 Leafcutter Ants
Open with regular venue hours | Included with venue admission
See the newest permanent exhibit at the Butterfly Biosphere: the 120,000-ant colony of female leafcutters! Leafcutter ants, native to South and Central America, form one of the largest and most complex animal societies in the world – second only to humans. This hardworking species redefines teamwork and is truly spectacular. Come view the ants performing their duties and check in with an Explorer to learn more about these small-but-mighty critters!
The Butterfly Effect
The butterfly effect is the notion that one small change could have a much larger impact for better or worse. Explore how this topic covers science fiction – and our present ecosystems on the blog.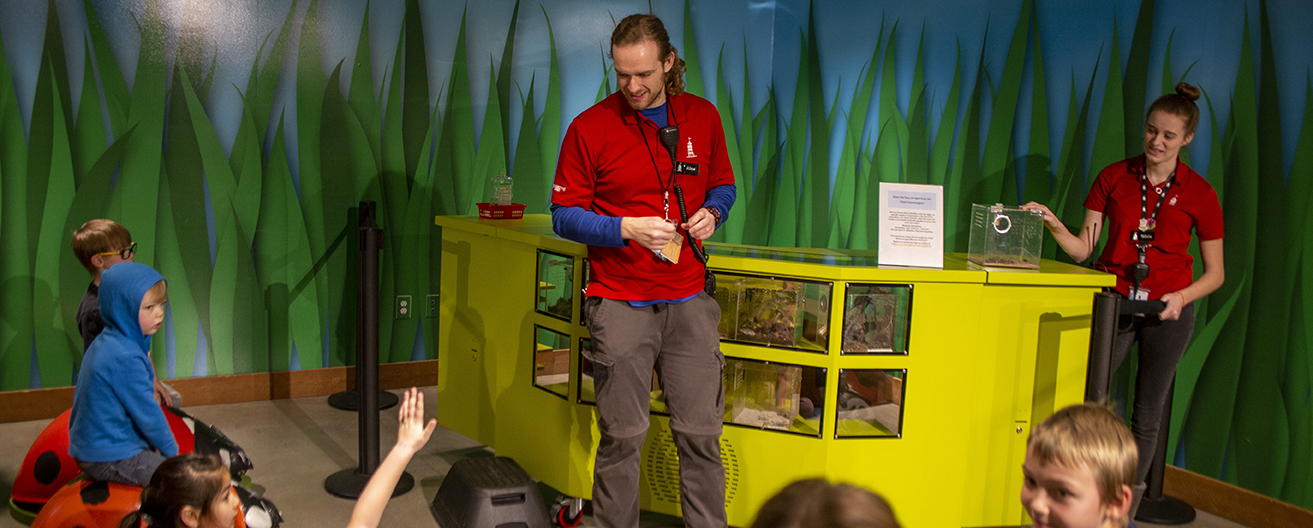 Critter Encounters
Daily | 10 am, 1 pm, 3:30 pm, 6 pm
Join a regularly timed show at the Critter Corner, where you'll learn about bugs and the important role they play in the environment!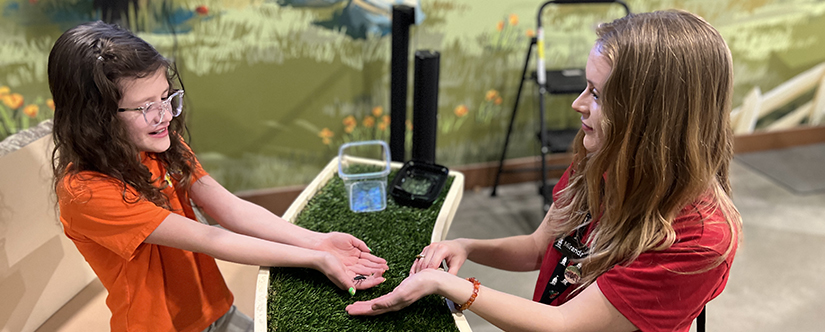 Bug Handling
Daily
Go beyond the glass with this hands-on opportunity! Check out the Critter Corner during your trip around the museum for a chance to hold a friendly bug.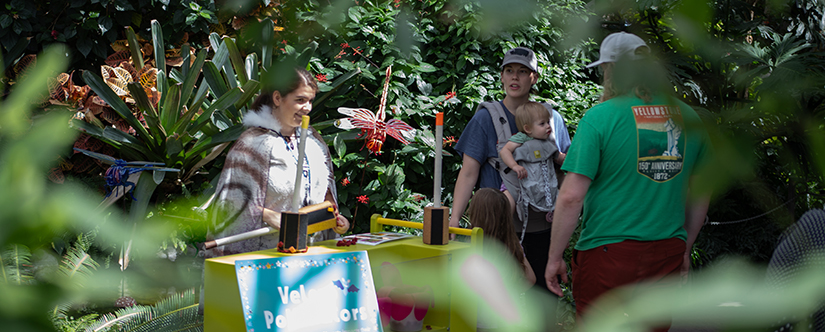 Entomologist Chats
Daily | 1:30 pm
Join the Entomologists who take care of our insects, arachnids, and other invertebrates to learn more about the bugs that live in the Butterfly Biosphere and how we care for them. See them release the day's newly emerged butterflies for their first flight in the Conservatory, and learn more about the butterflies' care and behavior. Take this opportunity to chat with the Entomologist after the presentation.
Located in the Conservatory above the pond. 
Itsy Bitsy Science
mondays | 3 pm
Come explore with us at Itsy Bitsy Science! Together we will investigate the workings of the natural world with young guests and their families. This program is all about encouraging littles to engage in beginning science practices through facilitated play.
Included with regular venue admission.
tales for tots
wednesdays | 11 – 11:20 am
Join us for our hands-on storytelling adventures, Tales for Tots, held weekly at 11 am. Each week a new story is read followed by a fun activity that goes along with that story.
Included with regular venue admission.
Butterfly Biosphere Trading Post
Community Insect Collection
Join Thanksgiving Point's Community Insect Collection! Learn more about the bugs that live around you by making and sharing your observations. Take a photo of a unique bug, bring it into the Butterfly Biosphere and trade it for points.  This collection is an extension of the Trading Post at the Museum of Natural Curiosity – your Trading Post points are linked to your account so you can grow points for both locations. Save up enough points to take home a special prize discovered by other explorers like yourself!
Download Community Insect Collection Rules