Coming Soon: Amazing Pollinators
Open Now!
Transform into bees, bats, and butterflies and get your game on in the vibrant world of Amazing Pollinators! The centerpiece of this unique, bilingual exhibit is a visually stunning, playable maze where visitors take on 48 survival missions from eight different pollinator groups, including bats, bees, beetles, birds, butterflies, moths, flies, and wasps. There are six missions for each group that increase in complexity and difficulty, putting players in the shoes of different species like the hibiscus bee, soldier beetle, or ruby-throated hummingbird.
This cleverly conceived exhibit sparks interest in the natural world, spurs at-home observation of plants and pollinators, and provides an astounding magnitude of science and nature education in a cohesive, fun exhibit that engages all.
Created by Minotaur Mazes, a worldwide leader in interactive educational maze exhibits.
Included with admission to the Museum of Natural Curiosity.
Admission
EXPLORER PASS
See it all with an Explorer Pass! A Thanksgiving Point Explorer Pass grants admission into all five venues (Museum of Natural Curiosity, Farm Country, Mountain America Museum of Ancient Life, Ashton Gardens, and Butterfly Biosphere) for one day.
Adults: $41
Children: $32
Children ages 2 and under: Free
BECOME A MEMBER
Enjoy free admission to five award-winning venues, including two world-class museums, a butterfly conservatory, a 50-acre garden, and a working farm.
Receive advance purchase opportunities and discounts on popular day camps, youth and adult classes, and special events.
Take advantage of exclusive discounts on dining and shopping, plus receive perks like bringing guests for half-off regular admission.
MUSEUMS FOR ALL
Museums For All is a signature access program of the Institute of Museum and Library Services (IMLS), administered by the Association of Children's Museums (ACM), to encourage people of all backgrounds to visit museums regularly and build lifelong museum-going habits.
With presentation of a SNAP Electronic Benefits Transfer card and photo ID, admission is available for up to six people at $3 per adult, dependent children free. Available in person only. Not available for online purchases.
NONPROFIT COMMUNITY GROUPS
We welcome nonprofit community groups to Thanksgiving Point! To learn more about pricing and the reservation process for nonprofit groups, follow the link below.
GROUP PRICING
– Groups of 20+ receive 20% off regular admission prices.
– To receive the discount rate, groups must enter and pay as a group in one transaction.
– Reservation does not denote private experience – this is a public area.
– No amplified music or microphones allowed.
– Valid only during regular hours of operation.
– Blackout dates apply (Luminaria, Tulip Festival, Utah Symphony at the Waterfall, Labor Day Luau, and other special events as scheduled).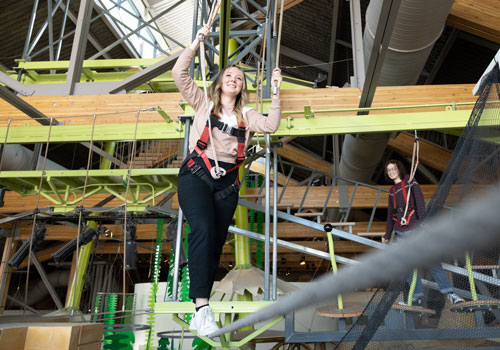 Canopy Tours
Experience the Museum of Natural Curiosity from above with a Canopy Tour, a high-ropes course suspended over 40 feet in the air. This exciting experience is fun for the whole family and a great challenge for all ages! Guests can purchase tours in-person at the Museum of Natural Curiosity Front Desk.
Admission
Thanksgiving Point members: $8
With paid museum admission: $10
Without paid museum admission: $12
Requirements
Participant must be over 6 years old

Participant is wearing secure shoes with back (No flip flops, Crocs, or slides)

Participant is in good physical health

Participant is a MINIMUM of 42″ tall

Participant is MORE than 48″ tall, or they have a paying adult to accompany them (One adult per child)

Participant is not wearing a skirt

Participant is less than 300 pounds

Participant is NOT pregnant, or had a recent surgery

A waiver must be signed by a legal guardian before participating
Melody Makers
Tuesdays | 11-11:20 AM
Bring your tots and enjoy a fun morning of exploring music and movement at the Museum of Natural Curiosity.  Led by our education staff, Melody Makers is the perfect opportunity for little kids to dance and move in a fun and friendly environment.
Included with regular venue admission.
Itsy Bitsy Science
Wednesdays | 3 pm
Come explore with us at Itsy Bitsy Science! Together we will investigate the workings of the natural world with young guests and their families. This program is all about encouraging littles to engage in beginning science practices through facilitated play. We will focus on skills such as making observations, asking questions, making guesses, sorting, and measuring.
Included with regular venue admission.
Tales for Tots
Saturdays | 11-11:20 AM
Join us for our weekly storytelling adventure, Tales for Tots, held each Monday, Wednesday, Friday, and Saturday at 11 am. Staff will engage guests with interactive storytelling as well as movement and/or music activities that connect to the story theme of the day.
Included with regular venue admission.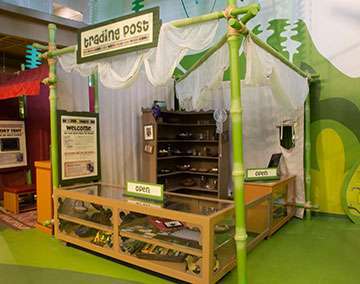 Trading Post
Mondays – Saturdays | 10 am – 8 pm
Regular venue admission required to access the Trading Post
Exploration begins in your backyard with the Museum of Natural Curiosity's Trading Post! Check out the amazing treasures hidden all around you by looking under rocks, peering in streams, and gazing into trees. When you find something unique, bring it into the Museum of Natural Curiosity and trade it for points at the Trading Post. Save up enough points to take home a special prize discovered by other explorers like yourself!
If the Trading Post is not open when you visit, please contact any employee and we will get it open for you!
The Importance of Cultivating Courage
What are you afraid of? A common interview inquiry and a terrible first date question. Everyone is afraid of something. It has been an unnegotiable condition of life on Earth from the time humans hit the scene, hunting wild beasts and fighting for survival, to today, with fewer physical threats but arguably more psychological ones. Fear can be a tide-pool or a deep-sea trench, and courage is our only defense against it.