Summer Day Camps on SAle now!
Summer at Thanksgiving Point means an adventure like no other! This year, watch your child transform through fun learning experiences as they discover dinosaurs, create unique art, experiment with topics in STEM, and more! Children will connect with each other and the world around them while making new friends, exploring nature, and meeting the insects and animals that call Thanksgiving Point home. Don't forget – Thanksgiving Point Members get exclusive Summer Day Camp registration during our Members-only pre-sale from March 1st-7th, as well as a 10% discount all season long.
Please Note: Beginning in 2023, lunches will no longer be served during Summer Day Camps. Campers must bring their own sack lunches that are free of peanuts and tree nuts. Snacks will still be served during camps.

Golf Camps
Join us for a great week of golf for kids of all skill levels, ages 6-15.  Campers will be able to learn and sharpen their skills with a strong emphasis on the fundamentals of iron play, driving, chipping, putting, rules & etiquette. We will also be focusing on fitness, STEM of Golf, and core values learned through playing the game.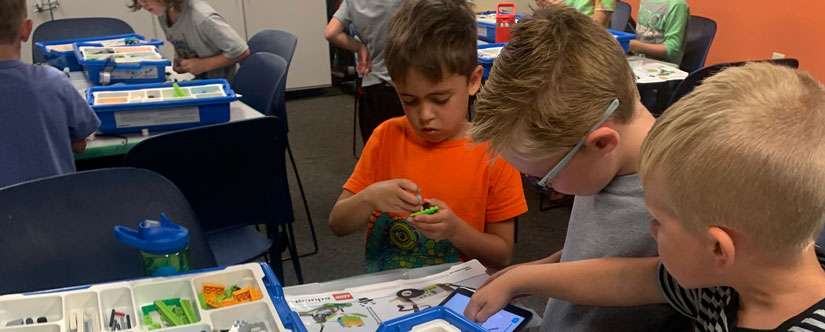 After Camp Adventures
Campers of all ages can learn and explore in Thanksgiving Point's venues with museum educators after their camps. Offered each day Monday through Friday, from 3:00-5:30pm.  Enrollment in Summer Day Camps is required.
Class Offerings by Age Group
two Day Camps
Little Learner Day Camps for Preschool and Kindergarten children. Camps are 2 days and run from 9 am -12 pm on Mondays and Wednesday, or 12 pm – 3 pm on Tuesdays and Thursdays. Camps are $95. Participants must be able to use the bathroom independently. Join us for the following topics:
Lunar Littles
Blast off into space with this out-of-this-world camp! As they explore the stars together, campers will train like space explorers and create astronomical artwork!
June 5 & 7, 9 am
June 5 & 7, 12 pm
June 6 & 8, 9 am
June 6 & 8, 12 pm
Little Scientists
Explore and experiment with science! As campers use their five senses, they'll participate in science experiments and begin to make inferences about the world around them.
June 12 & 14, 9 am
June 12 & 14, 12 pm
June 13 & 15, 9 am
June 13 & 15, 12 pm
Pirate palooza
Campers will play as pirates while they explore in Water Works and go on an adventure to find treasure. As they hoist the sails and scrub the deck, they'll develop social skills and learn to work as a team.
June 19 & 21, 9am
June 19 & 21, 12 pm
June 20 & 22, 9 am
June 20 & 22, 12 pm
Little Entomologists
Gain a new appreciation for insects, arachnids, and butterflies while learning how mighty these tiny creatures really are. Campers will explore the Butterfly Biosphere learning all about bugs while engaging in games, imaginary play, and crafts.
June 26 & 28, 9 am
June 26 & 28, 12 pm
June 27 & 29, 9 am
June 27 & 29, 12pm
Little Engineers
Campers will build using a variety of materials as they learn about the engineering process. They will sharpen their critical thinking skills and work together as a team while they experiment with all sorts of supplies!
July 10 & 12, 9 am
July 10 & 12, 12 pm
July 11 & 13, 9 am
July 11 & 13, 12 pm
fairytale fun
Explore fantasy stories and bring them to life with interactive STEM activities. As campers adventure through the Museum of Natural Curiosity, they'll participate in building feats, science experiments, and imaginative play.
July 17 & 19, 9 am
July 17 & 19, 12 pm
July 18 & 20, 9 am
July 18 & 20, 12 pm
Little Paleontologists
By exploring the Mountain America Museum of Ancient Life, campers will discover a variety of amazing dinosaurs. With hands-on activities they will learn about fossils and what it means to be a paleontologist. Through imaginative play they will investigate dinosaur habitats and behaviors.
*July 25 & 27, 9 am
*July 25 & 27, 12 pm
*July 26 & 28, 9 am
*July 26 & 28, 12pm
Little Artists
As campers explore the Museum of Natural Curiosity, they will foster creativity through crafts, games, songs, and stories while learning about colors and shapes.
July 31 & Aug 2, 9 am
July 31 & Aug 2, 12 pm
August 1 & 3, 9 am
August 1 & 3, 12 pm
*Shifted dates due to Holiday