Admission
Single Ride Passes
Single Ride (ages 3 and up): $5
Thanksgiving Point member Single Ride: $3

Single Ride with Venue Admission Ticket Purchase: $3
Children ages 2 and under: Free (with paying Adult)
5 Ride pass
One ride is never enough! Let your imagination run wild with a one-day multiple-ride pass, great for families and kids that just can't get enough.
5 Ride Pass: $15
Children ages 2 and under: Free (with paying Adult)
BECOME A MEMBER
Enjoy free admission to five award-winning venues, including two world-class museums, a butterfly conservatory, a 50-acre garden, and a working farm.
Receive advance purchase opportunities and discounts on popular day camps, youth and adult classes, and special events.
Take advantage of exclusive discounts on dining and shopping, plus receive perks like bringing guests for half-off regular admission.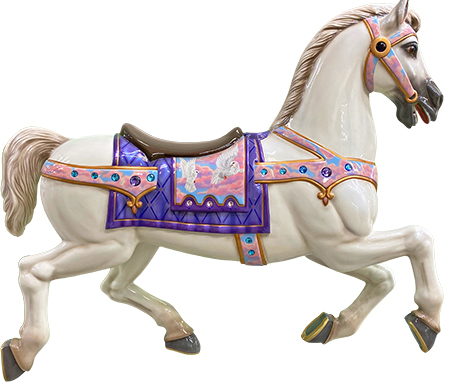 The magic starts here
The Carousel at Thanksgiving Point is unlike any other carousel in Utah. The horses were hand-painted and most feature designs of the world-renowned ride company Bradley & Kaye. Featuring motifs near and dear to Thanksgiving Point's heart, like butterflies, flowers, waterfalls, and more, each of the hand-painted horses is one-of-a-kind. No other merry-go-round has elements like those at The Carousel at Thanksgiving Point.
From the Imagination of Barbara Barrington Jones
When notable philanthropist Barbara Barrington Jones presented the idea of a carousel at Thanksgiving Point, she spoke of a ride that inspired her in her youth to explore her passions and develop curiosity. The Carousel at Thanksgiving Point highlights her vision – and brings it to life so other kids and families can be inspired. Thank you, Barbara, for your love and dedication to our community.