Utah is one of the best states to live in if you or your child are interested in geology. You can find an abundance of common gemstones, geodes, and fossils in the Beehive State. Utah was once an ancient sea and is home to a lot of fossilized marine life. Due to past volcanic activity, it also houses many geodes, making it the perfect playground for amateur or professional geologists. Grab the kids and explore the state for hands-on geological exploration.
What is Rockhounding?
Rockhounding is the process of searching for and collecting unique rocks, geodes, and gemstones. It's an exciting way to get outside and find treasures in your own backyard. There's an online community dedicated to this niche hobby that can help you prepare and pick out the best locations for finding gems, geodes, fossils, and more.
Where to Rockhound in Utah
With our state being one of North America's most diverse geological landscapes, the question is, where can you not collect gems and rocks in Utah?  Amateur geologists can search for and collect rocks and other geological anomalies on public land, excluding national parks, national monuments, tribal lands, military reservations, dam sites, or wildlife refuges. Instead, search for rocks at places like BLM and U.S. Forest Service lands. Here are a few top rockhounding destinations to get you started:
Mineral Mountain – This mountain range is just east of Beaver, Utah, and has been a popular gemstone hunting location since the pioneer era.
Wonderstone Quarry – This small quarry near Toelle is an easy place to find wonderstone, a volcanic rock composition with a beautiful striped pattern.
Park City Mining District – Explore the abandoned mines in the hills of Park City, or take your little ones gem panning at Park City Mountain Adventure Park. Azurite, quartz, barite, and many other minerals can be found in this area.
Bingham Canyon – Once a copper mine, rockhounds visit these rock pits in search of fluorite, barite, calcite, and more.
Dugway Geode Beds – You can find quartz-filled geodes in this popular gem-hunting area's surface-level soil and rocks. This spot is remote, so come prepared with lots of water, proper tools, and realistic expectations.
How to Prepare for Your Expedition
The first step in preparing for a rockhounding excursion is research. Ensure you understand the conditions, tools needed, and current laws and restrictions before embarking on your gem-hunting journey. You will likely need to spend adequate time planning your outing; expect to spend several hours preparing before you start collecting. Some rockhounding locations require you to pick up some specialized tools – rock picks, cleaning tools, shovels, and more may be necessary. Fortunately, a sizable community of online gem and fossil enthusiasts have shared their experiences and tips with the public.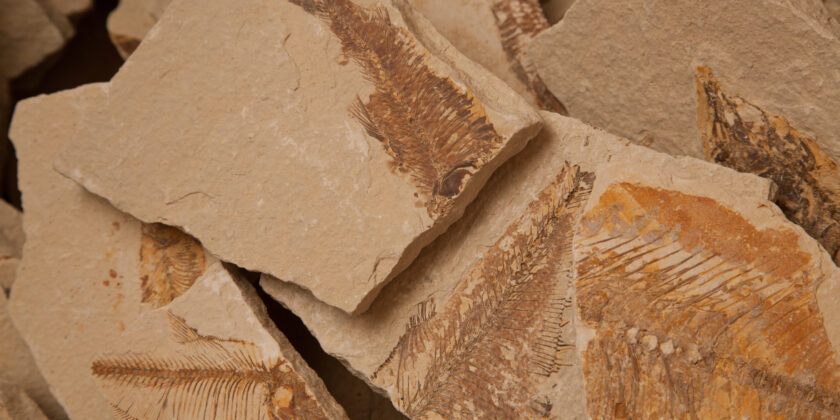 The Perfect Science Field Trip
Searching for gemstones and unique rocks can be a great way to teach your children or students about geology. It is a fun and hands-on activity that can help them learn about the different types of rocks, their formations, and their properties. It can also help them develop their problem-solving and critical-thinking skills.
For more structured field trips that fit into a typical schooling curriculum, consider checking out Thanksgiving Point's lineup of field trips. They're designed to provide valuable lessons on various subjects for both traditional and non-traditional students.
Another Way to Learn About Fossils and Geological Wonders
If you're looking for a more structured way to see some fossils and learn about Utah's natural history, the Mountain America Museum of Ancient Life at Thanksgiving Point is the perfect place. Located in Lehi, Utah, the museum has one of the world's largest displays of mounted dinosaur skeletons, with 60 complete skeletons. More than 50 hands-on exhibits, such as the Erosion Table and the Quarry Dig, allow visitors to interact with prehistory. An active paleontology lab within the museum works to excavate a 150-million-year-old Barosaurus. Want to go even further? Kids and adults can clean and prepare a real fossil in the Jr. Paleo Lab or take home a mystery crystal with the Geode Cracking activity. For even more knowledge and instruction, join Thanksgiving Point's lead paleontologist Rick Hunter in the Behind The Lab: VIP Tour so you can learn all about what they're working on.