Northern Utah is home to some of the most incredible Christmas light displays in the country. A holiday light show is a wonderful way to experience the magic of the season. Luminaria, Thanksgiving Point's incredible light show, has garnered popularity and critical acclaim year after year. Featuring millions of lights, dozens of different themed sections, and the iconic Merry Mosaic – where 6,500 luminaries and a 120-foot tree create holiday scenes timed with music – the event requires nearly 10,000 hours by employees and volunteers to produce. As the largest holiday light display in Utah, Luminaria is a breathtaking sight and the perfect excursion to ignite the holiday spirit.
A Full Sensory Experience
Luminaria is more than just a light show. Thanksgiving Point makes sure that every sense is enabled throughout the mile-and-a-half outdoor walking experience. Incredible sights are around every corner, including the programmable luminary show and themed sections that transport you to different winter wonderlands. Holiday music is displayed throughout the experience – and this year, you can even save Thanksgiving Point's holiday playlist on Spotify or Apple Music to listen to the songs after you visit. Some of the most unique sensory experiences are the smells, tastes, and interactive elements. Different sections will have scents associated with them. For example, when you walk into the Gingerbread Cottage, you smell gingerbread wafting through the air. Concessions like mini-donuts, hot chocolate, and make-your-own s'mores kits allow you to get a taste of the holidays. Plus, interactive elements like the Shiny Steps and the incredible Fire & Ice show are guest favorites. Shiny Steps allows you to jump in and be a part of the light show, while Fire & Ice is an incredible pyrotechnic program where real flames shoot up to 20 feet in the air, creating a spectacular display of light, fire, and music that will leave you breathless (and warm).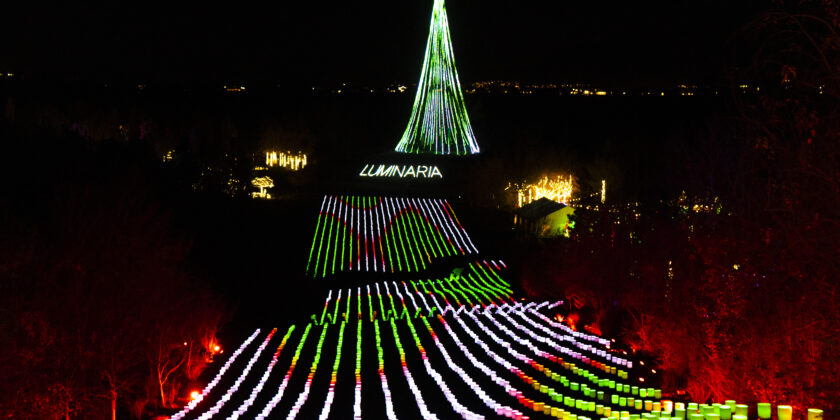 Christmas Lights at Ashton Gardens
Transforming the Ashton Gardens into Luminaria is no easy feat. Thanksgiving Point employees begin setting Luminaria up in early August, wrapping trees and planning how the event will come together. After 10,000+ hours of work from hundreds of employees, the 50-acre Ashton Gardens are transformed into a holiday masterpiece. Explore the 28 themed areas scattered throughout the gardens by following the one-way outdoor walking path that guides you through the millions of lights. Enjoy special holiday treats like s'mores at glowing fire pits, hot chocolate and sweets from the cottages, interactive game areas, and more while immersed in the holiday extravaganza.
Luminaria Tickets: Dates, Prices, and More
Ready to secure the magical holiday experience that will become your next favorite holiday tradition? Luminaria is open from November 16 to January 6 and tickets are available now. Adult tickets range from $20 to $27 and child tickets range from $14 to $20. Children under 3 are free. Luminaria is open Monday through Saturday from 4:30 pm to 9 pm. VIP tickets are available which include reserved parking and souvenirs like a commemorative mug, hand warmers, a glow necklace, and a drawstring backpack. Visitors can also add on a fire pit or igloo reservation to make their experience extra special.