If you've missed the spring planting season, don't panic! Even as things heat up in the summer, you can sow a successful garden by choosing heat-resistant plants and vegetables and by taking the proper precautions to protect them from the intense heat. You can still enjoy a bountiful harvest or beautiful flowers from your summer garden with a little care and attention.
Ten Late-Summer Plants for Your Garden
Here are ten plants you can grow in the heat to spice up your garden:
Cabbage: Cabbage, a summertime staple, is a heat-resistant plant that can survive and thrive in the late summer. After gathering, transform your home-grown cabbage into a tangy coleslaw or use it as an ingredient in a virtually endless list of recipes.
Broccoli: Another perfect summer-to-fall crop, broccoli sprouts in the summer and is ready to harvest by autumn. Its nutritious (and delicious) florets can be used in everything from fresh salads to casseroles, making it a versatile addition to your home-grown ingredients.
Hibiscus: Known for its large, striking flowers, Hibiscus brings a tropical touch to the garden in late summer and fall. Its vibrant blossoms vary in color from yellow to deep red and offer an eye-catching display.
Cauliflower: Cauliflower is a cool-season crop that home gardeners can plant in late summer and will still produce a harvest in the fall. It is a member of the Brassica family, along with broccoli, cabbage, and Brussels sprouts. Cauliflower's white, lumpy shape is the immature flower head of the plant.
Daylilies: These beautiful, vibrant flowers have no trouble growing in the hot summer months. Known for blooming only one day at a time, they can bloom in red, yellow, or pink, making for a great accent piece in your garden.
Spinach: Whether steamed, blanched, sautéed, or simply tossed into a salad, spinach is a nutrient-rich vegetable that deliciously complements a variety of foods.
Green Onions: Soups, stir-fries, potato salad, nachos, you name it! With their tangy, crisp flavor and vibrant splash of color, green onions can elevate almost any dish. Considering how easy they are to grow, they're a must-have in your summer garden.
Black-Eyed Susans: These hearty perennials bloom from midsummer into the fall, adorning the garden with their bold, yellow petals and dark centers. Black-Eyed Susans are perfect for dryer climates.
Carrots: Classic and delicious, these easy-to-grow vegetables only take about 60 days from plant to harvest, making them easy to plant into late August.
Arugula: Known for its peppery kick, arugula is a fast-growing leafy green that can take your garden from summer to fall. Planted later in the summer, it matures swiftly, ready to add a bold flavor to your autumn harvest.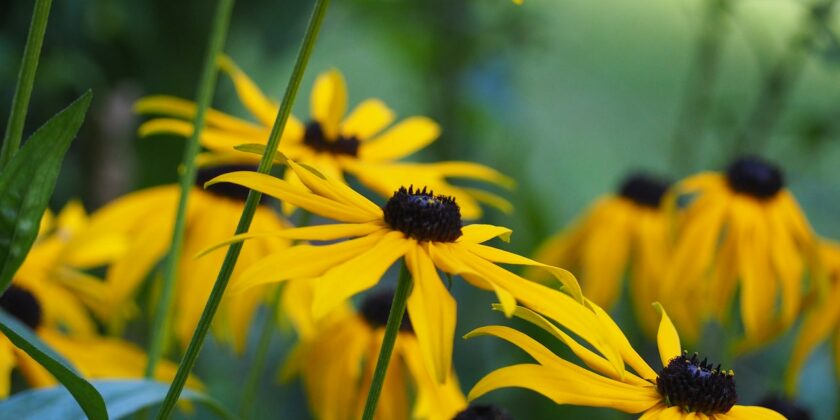 How You Can Help Your Late Summer Garden Survive The Heat
Starting a garden in the late summer may be challenging. Flower and vegetable seeds require a perfect combination of oxygen, water, and sunlight. The hot, dry ground can stress plants and make it harder for them to germinate, and the cold overnight temperatures later in the year can be harmful or even deadly for your plants. Even with the additional challenges, gardening in the late summer remains achievable. Late-summer gardening may require extra precautions, but it's worth the effort.
Here are three tips to help your garden succeed in the summer:
Keep Your Soil Moist: Especially in the summer heat, keeping your planting soil moist when the seeds are young is vital. Water frequently when your seeds are germinating to keep the soil moist but not soggy. Overwatering can cause the young seeds to rot, while underwatering can prevent them from growing. A spray bottle or a watering can with a fine mist can help you avoid disturbing the sprouts. Keep the soil consistently moist until the seedlings are about two inches tall, then water less frequently.
Give Your Plants a Break From the Heat: Covering planter boxes with shade cloth can help keep your soil moist during germination. Shade cloth will reduce the soil's temperature and UV exposure, helping prevent it from drying out. By relieving your plants from the direct sun, you can reduce the amount they need to be watered, which can be excessive in Utah's summer heat. The shade cloth will also help protect the plants from wind and other potentially harmful weather.
Use Frost Protection When Necessary: Like shade cloth, using frost protection is a great way to protect your plants from harsh conditions. A single overnight frost can kill most vegetables, so watching the forecast and taking action before it's too late for your plants is essential. One approach to frost protection combines garden hoops and protective material, like plastic or burlap. Pitching a miniature tent for your vulnerable plants can protect them from overnight frosts or snowfall in the late autumn.
Gardening in the late summer may offer an extra challenge, but it is worth the effort. It's an enriching way for children and adults to get outside and personal with nature. You can enjoy a bountiful harvest from your late-summer garden with a little planning and effort. So get out there and start planting!
If you want a little extra help and advice, Thanksgiving Point offers numerous gardening classes and learning opportunities on campus. Ashton Gardens offers a weekly program called Cultivating Kids where kids can get their hands dirty while learning gardening basics. Adults can join one of the free guided walks as well, where they can learn about the Ashton Gardens and the plants within. Choose between the Garden Walk or the Tree Walk depending on your interests or needs and ask questions about what plants work best in the Utah climate.
Gardening is a great way to promote natural learning in your children. It can teach them about science, math, and nature. It can also help them develop responsibility, patience, and problem-solving skills. Gardening is an excellent option if you're looking for a fun and educational activity for your kids as the summertime winds down.
Discover other enriching attractions and programs for kids at Thanksgiving Point.