Travel back in time to the land of the dinosaurs! Dinosaur Island at Ashton Gardens is a one-of-a-kind experience that will transport you to a world of prehistoric wonder. From the towering Tyrannosaurus Rex to the horned Triceratops, you'll see it all at Dinosaur Island. You'll also enjoy special daily programs, a Dino Dash 5K, outdoor movies, and more throughout the summer. With its blend of entertainment and education, Dinosaur Island is a must-see attraction for anyone with an interest in adventure, dinosaurs, or natural history.
Dinosaur Island is Thanksgiving Point's main summer attraction and will be in the Ashton Gardens from May 27 to August 26. Visit Monday through Saturday from 9 am to 9 pm. Tickets are available now.
Ashton Gardens
3900 N. Garden Drive
Lehi, Utah 84043
Monday – Saturday through August 26th, 2023
9 am – 9 pm
Early Closures: June 7, 4:30 pm
June 27, 4:30 pm
July 17, 6 pm
Late Opening: August 5, 9:30 am 

FREE for Thanksgiving Point members and included with regular Ashton Garden admissions.
Ways to See Dinosaur Island: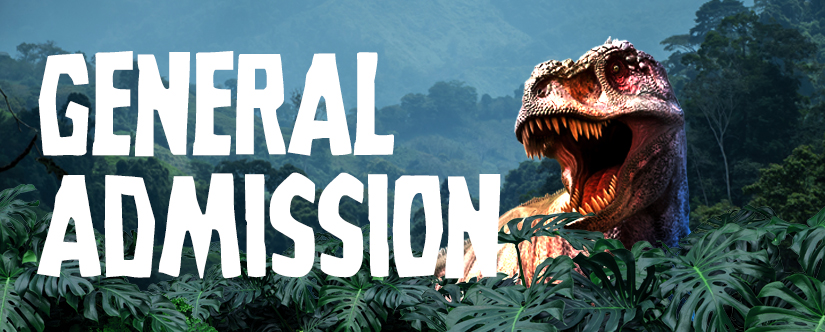 General Admission
Measure up to the beasts! Thanksgiving Point members receive FREE admission to Dinosaur Island all summer long. Not a member? Reserve your tickets in advance to save $3!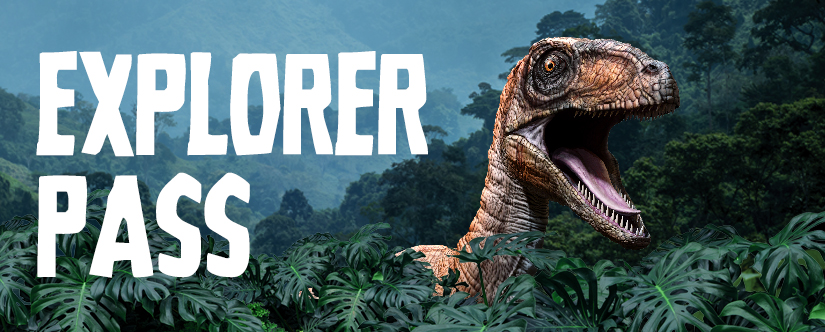 Explorer Pass
Have fun in the sun or cool down in the AC. Purchase an Explorer Pass to see Dinosaur Island and the other Thanksgiving Point venues in one day for one easy price!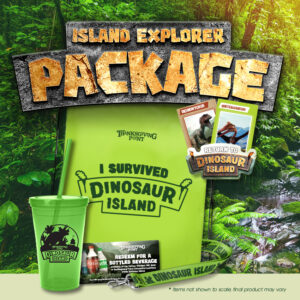 Island Explorer Package
Coming Soon
Survive the island in style! With the Island Explorer limited-edition package, you'll get:
Drawstring backpack
Lanyard
Five (5) Dinosaur Island trading cards (including an exclusive green foil card only available in this package!)
Decal sticker
Double-wall tumbler
Voucher for an ice-cold beverage
DINO DASH 5K
Join us August 5  for a run through the heart of Ashton Gardens during the special Dinosaur Island exhibit.  Race through over 25 life-sized dinosaurs in a run unlike anything you've seen in this era!
Daily Programming
Don't let that education go to waste! Sign the kiddos up for Dig Into Reading, the new summer reading program at Dinosaur Island. Designed to help retain literacy and promote accountability, kids can participate in fun reading activities. They can keep track of their reading, and when they meet the requirement, they will receive a an entry to win a Chick-fil-A catered party at the Mountain America Museum of Ancient Life!
Ways to participate
Read-a-Saurus Mondays: 9 am to 9 pm. Included with admission. 
Dinos and Ice Cream
Looking to set up the perfect evening with your favorite plus one? For just $35, you can get admission and ice cream for two to the Mountain America Museum of Ancient Life or Dinosaur Island at Ashton Gardens. This "sweet" package deal goes extinct on August 26, so reserve your tickets now!
Meet the Dinosaurs of Utah
Let's meet the dinosaurs at Dinosaur Island! Learn a dinosaur fun fact about each creature you can see this summer in the Ashton Gardens.
Download the Thanksgiving Point App
Download the Thanksgiving Point app to access the survivor's guide to Dinosaur Island and explore an interactive map, dino facts, dino personality quiz, menus, and more! You can also save your tickets with the Thanksgiving Point app.