Join us for the Latin American holiday Día de Muertos at Thanksgiving Point! Legend has it that on Día de Muertos, the dead join us as a part of our community, awakened from their eternal sleep to share celebrations with loved ones. Members of the community are invited to build an altar (or ofrenda) inviting a loved one to enjoy the fragrance of marigolds and delicious pan de Muerto (bread of the dead). A community ofrenda will be available at the event to write notes or share mementos in celebration of souls no longer on Earth.
The Show Barn will be filled with the sights and sounds of Día de Muertos, including the most familiar symbol of Día de Muertos, artful calacas and calaveras (skeletons and skulls), appearing everywhere enjoying life, often in fancy clothes, and in entertaining situations. Dancers representing the colorful traditions of Latin American countries perform along with mariachi bands, singers, and storytellers. Don't miss this mix of family history, beautiful art, lively music, and delicious food. 
Show Barn at Thanksgiving Point
2476 Sycamore Lane
Lehi, Utah 84043
October 28, 2023
10 am – 8 pm
Adult: $10
Child (3-12 years old): $3
2 and younger: FREE
Thanksgiving Point members receive 10% off.
Performer Schedule
10:30 am
Danza Azteca Quetzalcoatl
11 am
Yunuen Carrillo y Mariachi México de Utah
12 pm
Ballet Folclórico Linaje Latino
1 pm
Mi Viejo San Simón – Alma Latina
1:45 pm
Bailando con el Corazón
2 pm
Mexico danza y folcklor
3 pm
Ballet Juvenil Eck
4 pm
Oaxaca en Utah
5 pm
Ballet Folklorico Quetzalcoatl
6 pm
Ballet Folklorio de Las Americas
7 pm
Trío Los Charros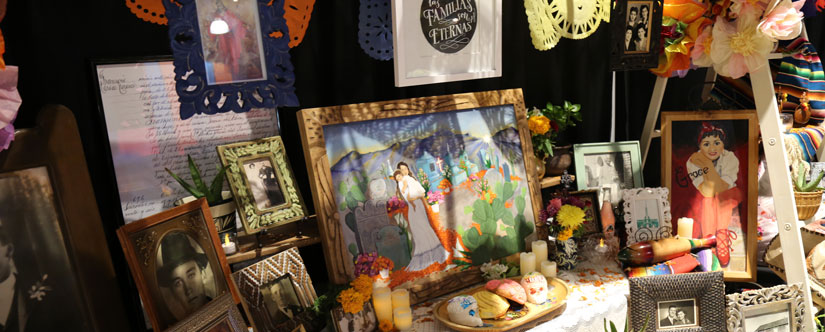 OFRENDAS
Ofrendas are offerings built for the souls of the dead to help welcome them back to your home. Sign up to display your own ofrenda, or contribute to the community ofrenda. This year, guests may also submit a photo of a loved one to premier in the Digital Remembrance Ofrenda.
Submissions for 2023 are now closed.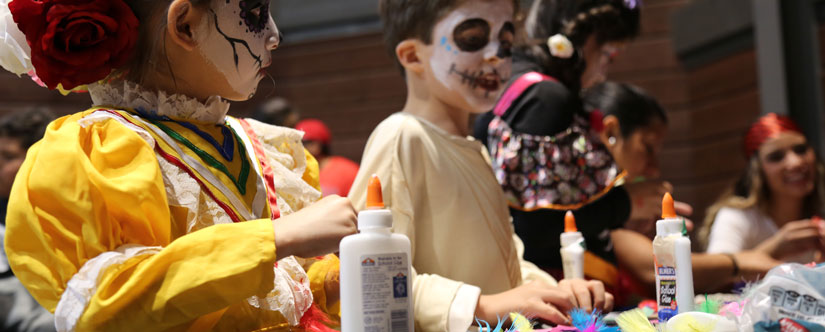 Activities
Enjoy the sights and sounds of Día de Muertos! Watch local performers while making tissue paper flowers, or dress up for the Best Catrina/Catrin contest. Check back soon for more information!
Learn More about Dia de Muertos
Learn more about the symbols of Día de Muertos and the team behind this event at Thanksgiving Point on our blog!