Walking through the Mountain America Museum of Ancient Life, staring up at the ancient fossils to each side of us and towering above our heads, we may think of how crazy it is that the bones we see are millions and millions of years old. But we don't often think about how long it takes to get them out of the ground, chipped out of the rock, and mounted before us. It doesn't quite take a million years, but it's definitely not just a one-day project either.
Peeking into the lab, we can see Thanksgiving Point's Director of Paleontology, Rick Hunter, hard at work chipping away at a Barosaurus bone. Behind him are slabs of rock with pieces of the skeleton yet to be uncovered. Barry the Barosaurus has been in the lab for years, slowly being separated from the surrounding rock. Paleontologists have some tools that speed up this process, but depending on the position and size of the bones, they may only be able to be retrieved using a small scribe. The scribes are very precise – and it's slow work that's only fit for the curious at heart.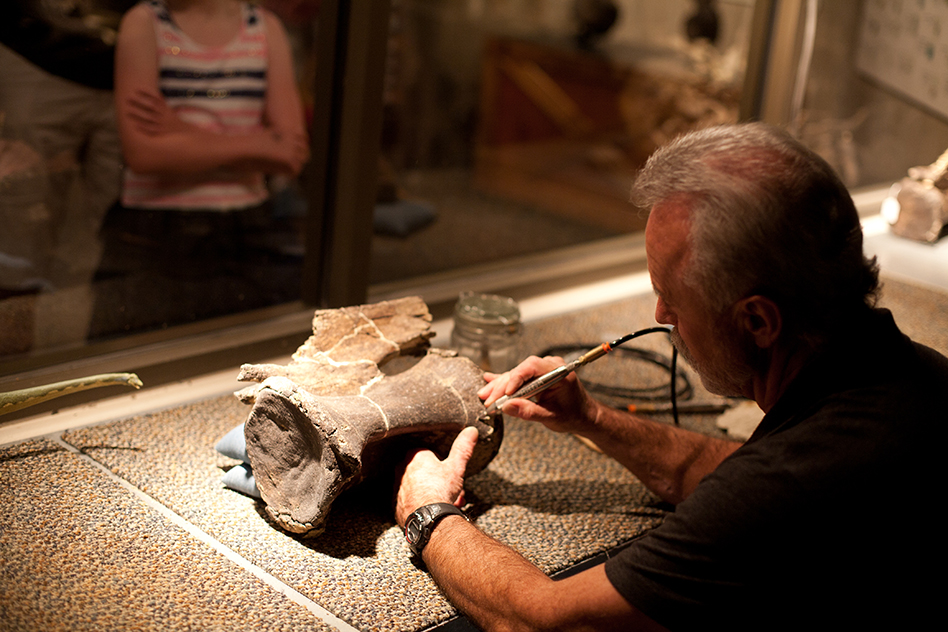 It is a practice of patience that yields great rewards. When all is said and done, both the triumph of the initial discovery and the sense of accomplishment for a job well done stands tall, mounted in the museum as a reminder of the resilience and preservation power of the Earth.
Sara Wootton, a programming manager at Thanksgiving Point, wants guests to be able to learn of the delicacy required of preparators who work on these fossils, as well as revel in the excitement that comes with having uncovered something millions of years old. That's why she's bringing back the Junior Paleo Lab – "a space designed to encourage our guests to come and learn how to be a paleontologist and how to actually work on fossils."
Sara says that once in the room, curious guests will have the chance to pick out a fossil from a large selection donated to the program by Rick, brought back with him from his dig in Kemmerer, Wyoming. Once seated with their chosen fossil in front of them, a member of the staff will teach them how to use the scribes, from turning them on and off to safety measures and protocols. With their lab coats pulled over their shoulders and their safety goggles in place, they will then get to work, chiseling away at the matrix surrounding the fossil specimen. By the end of the lab session, they'll have their very own fish fossil they'll get to take home with them.
Sara hopes that the Junior Paleo Lab will "show our guests how delicate paleontology can be and how being a preparator takes a lot of work. You have to be very careful, or you will destroy something that you cannot replace. We think this will be a very fun experience to have with the community." Do you want a little practice with patience and to walk out with your own prehistoric fish fossil? Throw on a lab coat and join us in the Junior Paleo Lab.