Anyone who has ever gone to a book fair knows just how much power Guinness World Records holds. Each year, kids run to the shelves in search of that shiny hardcover. They gasp as loud as they're allowed to in the school library at the man with the most tattoos or piercings, the woman with the longest fingernails, or the tallest dog ever.
Guinness World Records teach us things. They teach us about human capacity and the human spirit. They teach us about originality and innovation.
It is a testament to "you can do whatever you set your mind to." It is a testament to "you never know unless you try, no one else will ever know unless you document it." Each different record is a testament to all the wonder in the world and the people organized enough to have someone there to verify it.
Some World Records are out of reach (at a crisp 5 foot 6 inches, I will never be the tallest woman in the world), but you never know which one might be the perfect fit for you.
We found the one that was the perfect fit for us.
On October 7, 2022, at 10:10 am, we attempted to break the Guinness World Record for Most Bulbs Planted by a Team in One Hour.
We were not intimidated by the feat. After all, our garden staff and volunteers plant over 500,000 flower bulbs in the space of a couple weeks in preparation for the Tulip Festival each year. The planting process takes typically three weeks in late September and early October for our Tulip Festival in April and May. We planned to plant around 40,000 tulip bulbs, more than doubling the previous record holder's count.
The record was previously held by Wadomari Rengo Seinendan in Oshima, Kagoshima, Japan. On October 18, 2020, some 160 people planted 15,690 bulbs, thus securing the previous World Record that we, respectively, absolutely crushed.
At 7:30 am, gardeners threw the bulbs (placed them in the beds for easy planting). At 9 am, volunteers began checking in, putting on their T-shirts, and equipping themselves with trowels and gloves. At 10:10 am (on.the.nose.) the air horn sounded and the hour commenced.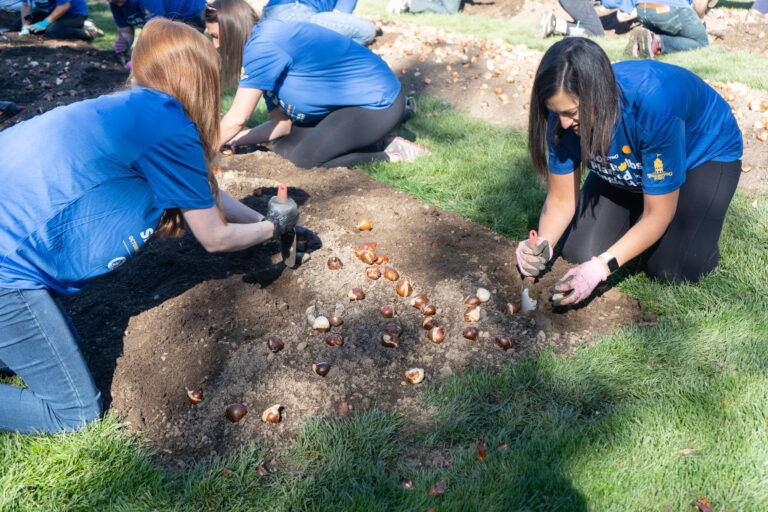 Bent over beds, volunteers with varying levels of gardening experience dug six to eight inches into the soil, placed a bulb (pointy-side up!), and covered the holes over and over and over again. With a little Shania and Queen blasting in the background, each group plowed through rows of beds throughout the gardens, exceeding the expected count with 15 minutes to spare.
Before awarding us our plaque, our adjudicator said, "Now the way we counted this is I came out early this morning, monitored the throwing of the bulbs and the count – I have receipts, I have documents, etc. You were also monitored by stewards in your sections to make sure all the bulbs were planted correctly, and we had a special witness here who has also attested to that fact. The mark to beat was 15,690. Today, Thanksgiving Point, you had 41,089. It's a new Guinness World Record."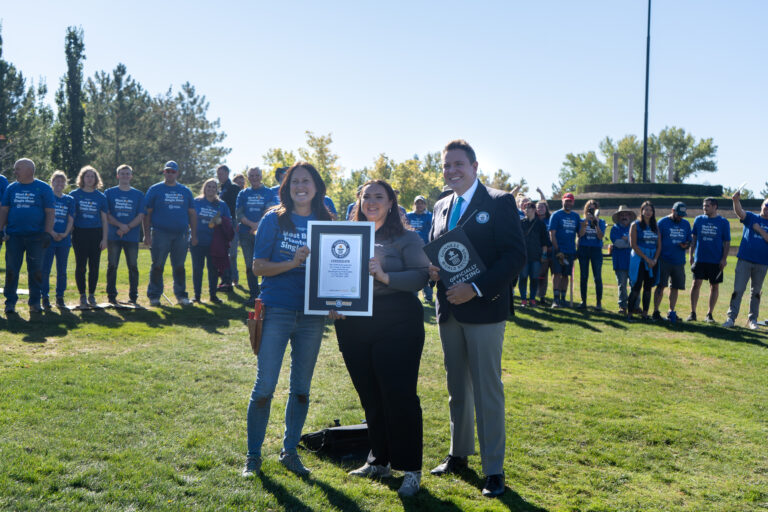 The title is a triumph for our volunteers and our community. When people read our name as the title holder for this particular World Record, they'll learn about both teamwork and individual volunteer impact. We would not have made it if not for each individual doing their part, but we also would not have made it without those individuals working together, diligently, toward our common goal.
Our success was made possible, not only due to our incredible volunteers and staff, but also because of our Communications Manager, Abby Allard, and our Horticultural Coordinator, Sarah Allred. An unstoppable duo, these women planned every detail of this event – from the necessary paperwork to participate, to enlisting enough hands, to accounting for thousands of bulbs, to the T-shirts, stickers, and pins.
We also extend our gratitude to Michael Empric and Cynthia Bee for keeping us accountable by making sure our endeavor was environmentally safe and that we met all the necessary qualifications.
Even with their knees in the dirt and collective nervous energy mounting from the pressure, they were still smiling, laughing with one another, bopping their heads to "Don't Stop Believing". What a wonderful community we are a part of.