Brand-new attraction brings a touch of historic amusement to Utah
LEHI, Utah (July 25, 2023) – A new destination in Utah, The Carousel at Thanksgiving Point, opens to the public on August 7, 2023 in Lehi. The brand-new carousel house was built for guests to come together and enjoy imaginative, family-friendly fun in a beautiful setting.
The 36-foot indoor carousel offers thirty horses and two chariots. Built for everyone, the chariots are wheelchair accessible. 38 people can ride at one time for two to three minutes each. Each horse features original hand-drawn art, painted and completed over 100 hours and inspired by Thanksgiving Point.
Most of the horses are a Bradley & Kay design. Bradley & Kaye was one of the most prolific and influential carousel makers in the United States. Their intricate carvings, colorful paintwork, and whimsical designs still grace many iconic attractions, including Dollywood in Pigeon Forge, Tennessee. Bradley & Kay carousels at Playland Park in Rye, New York and Hershey Park in Hershey, Pennsylvania influenced Walt Disney, including early Mickey Mouse cartoons and later in theme parks.
"The Carousel at Thanksgiving Point will inspire the imaginations of children for generations to come," said McKay Christensen, CEO of Thanksgiving Point. "These experiences create fresh possibilities that help kids dream of the world in new ways."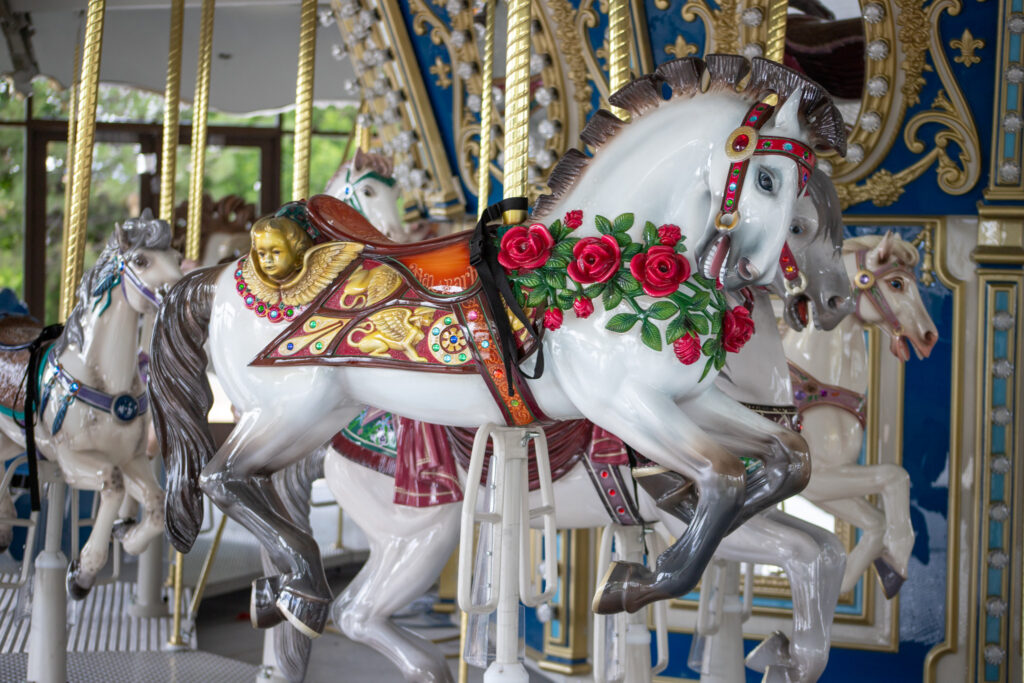 Barbara Barrington Jones, notable philanthropist and partner of Thanksgiving Point, first approached the nonprofit destination to create a carousel over ten years ago. She wanted to bring a carousel to the heart of Utah for others to enjoy as much as she did in her youth.
"It's been my dream since I was three years old and had my first carousel ride to build one," said Barrington Jones. "They influenced me so much as a child. I hope this carousel influences other kids and families to dream big in their lives."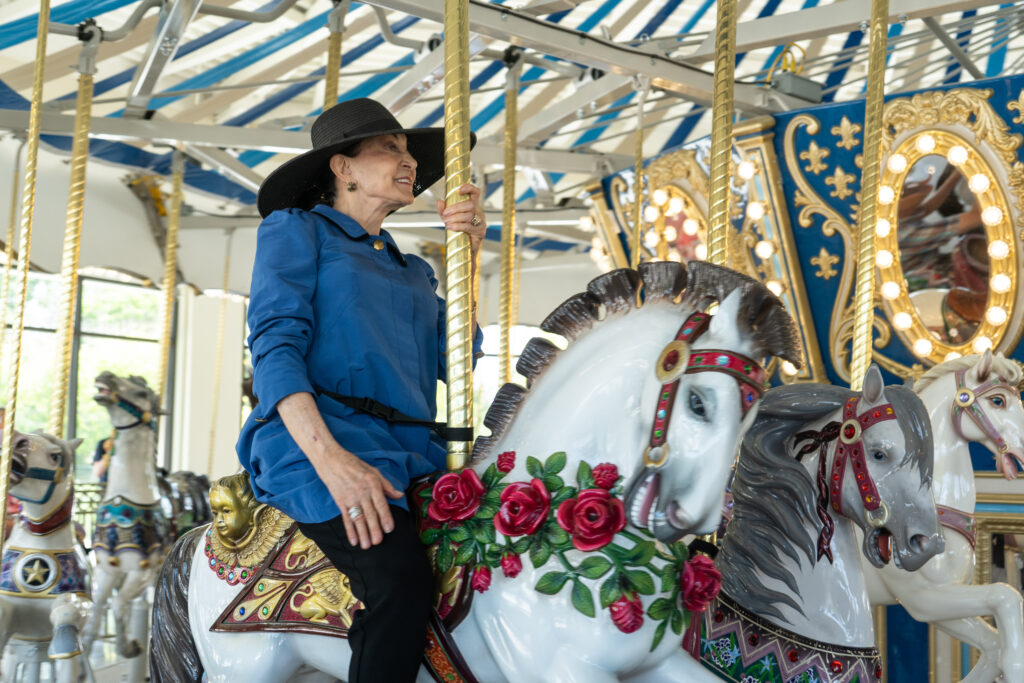 Previously, Barrington Jones helped create the Museum of Natural Curiosity and the Butterfly Biosphere at Thanksgiving Point. This latest collaboration is a Parisian and Victorian-inspired carousel in a glass house with a royal blue, white, and gold interior. The Carousel was designed and manufactured by Chance Rides in Wichita, Kansas. SIRQ Construction constructed the iconic carousel building under the direction of FFKR Architects and architect Justin Wallis.
The Carousel at Thanksgiving Point opens to the public on August 7, 2023. Thanksgiving Point members are invited to early-access rides from August 1 to August 5 before the attraction opens to the public on August 7. Daily hours are 9 am to 8 pm, closed Sunday. Regular timed tickets are $5, Thanksgiving Point member tickets are $3, and a five-ride pass is available for $15. The Carousel at Thanksgiving Point is located at 3653 N Garden Drive in Lehi, Utah.
More information and tickets can be found at thanksgivingpoint.org/carousel.
###
About Thanksgiving Point
Thanksgiving Point is a community-owned nonprofit with the mission to bring the joy of learning and the wonders of the natural world to life through world-class experiences that engage, delight, and inspire. Created in 1995 by Alan and Karen Ashton, Thanksgiving Point is a center of community engagement and welcomes more than two million annual visitors to visit, dine, play, and explore together. Thanksgiving Point is located at 3003 North Thanksgiving Way in Lehi, Utah. For more information, call 801.768.2300 or visit thanksgivingpoint.org.
Media Contact
Abby Allard, Communications Manager
aallard@thanksgivingpoint.org
801.768.7482