Halloween is one of the most exciting times of the year for all ages. Dressing up in costumes, eating candy, trick or treating, haunted houses, and so much more make October one of the best times of the year. Picking through all of the places and things to see can be a daunting task. Luckily, Thanksgiving Point has a little bit of everything for the whole family to enjoy this October.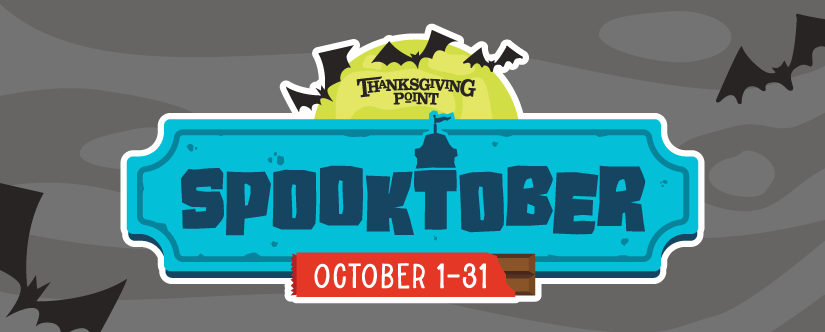 Spooktober: 12 Halloween Events at Thanksgiving Point
Spooktober at Thanksgiving Point offers a wide variety of family-friendly activities and events. Check out the list below to join in on a month filled with Halloween fun and magical memories.
If you haven't been to the Scarecrow Festival, you're missing out on one of the best fall festivals in Utah. Featuring dozens of scarecrows built by community members placed throughout the gardens, this is a great outdoor activity for all ages, especially kids who aren't ready for scares just yet. If you come on Thursday, Friday, or Saturday, you'll be able to enjoy fun fall-themed activities, vendors from all over the state, and yummy treats and food! 
2. BOOgie Night: Saturday, October 21 from 8 to 11 pm
Looking for something perfect for date night? Monster mash with your besties at BOOgie Night! In its first year, the Show Barn transforms into a groovy, energetic dance extravaganza perfect for an adults-only costume party. With Monstrous Mocktails, palm reading, tarot card reading, and so much more, you'll have a night of hauntingly good fun. 
3. Witches Breakfast: Saturday, October 21 from 8 to 10 am
The popular Halloween-themed breakfast is back! This is a great indoor activity for young kids or Hocus Pocus fans. Enjoy a buffet breakfast, Halloween crafts and activities, and meet some all-star witches as they wander around and speak with the tables.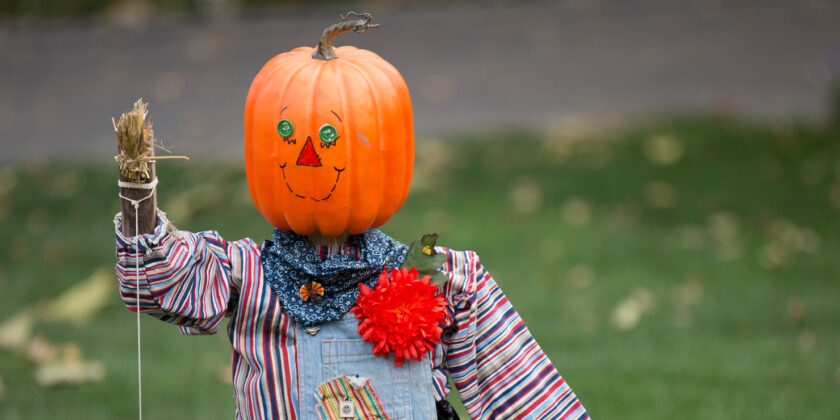 The Scarecrow 5k is one of Thanksgiving Point's most popular races. The entire family can participate together in a fun, active morning at the Ashton Gardens. As you run, you'll see the scarecrows lined up – but be careful, a few live scarecrows are waiting to scare you as you run by! 
5.
Dinos After Dark:
Tuesdays and Thursday
s
in October
from 6 to 8 pm
Dinos After Dark was so popular last summer that Thanksgiving Point just had to bring it back, but this time, it's Halloween-themed with spooky story time, glow dance parties, dino costumes, and prizes to win. Guests are encouraged to wear costumes – and there will even be prizes for the best costume every night. Each week has a different spooky theme, so return during the month to see what the dinos are up to.  
October 3 & 5: Beasts

 

October 10 & 12: Carnivores

 

October 17 & 19: Myths and Legends

 

October 24 & 26: Bones

 
6.

Creatures of the Night: Friday, October 13 from 5 to 8 pm
Halloween is known for using insects as a creepy-crawly symbol, but at the Butterfly Biosphere, they're friendly creatures that are excited to interact with you. Learn why these animals are feared and why they really aren't as scary as you think during this evening event. You can also check out the evening activities like cockroach races, scorpion encounters, critter mask–making stations, paper beetle airplanes, scientific observation tables, and much more.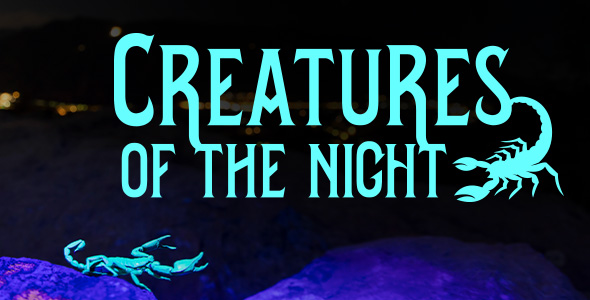 7. Solar Eclipse Viewing Party: Saturday, October 14 from 9 to 11 am
Watch the daytime turn into twilight as we enter a historic solar eclipse! Only viewable from certain US states, the Museum of Natural Curiosity will host a watch party as the sun is encompassed by the moon. Bring the kids and teach them a little bit about astronomy during this daytime event.  
8. Spookopolis: Monday, October 30 from 5 to 7 pm
On the day before Halloween, the popular Kidopolis exhibit at the Museum of Natural Curiosity turns into Spookopolis. This costume party for kids will have trick-or-treating, chemistry activities, and lots of fun for the ghouls and goblins who want to get some practice before they trick-or-treat on Tuesday.   
9. Mystery Nights: October 6, 20, and 27 from 5 to 8 pm
For three Fridays in October, you and the fam can solve mysteries in the Butterfly Biosphere and learn more about your favorite critters. This is great for the whole family to practice their teamwork skills while also solving a creepy-crawly mystery. You're handed clues upon arrival that guide you through the puzzles and challenges, helping you learn more about insects and making for a fun evening.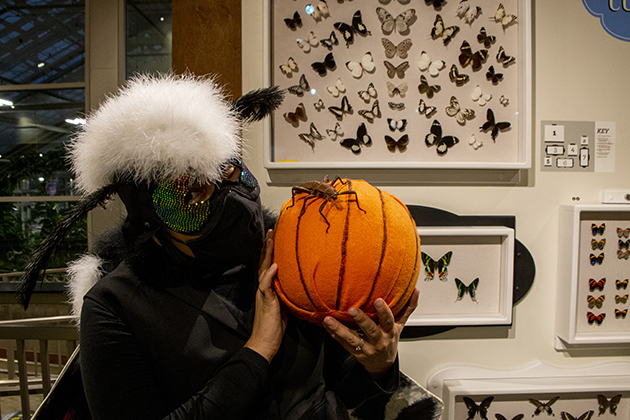 10. Barnyard Boo: Mondays in October from 10 am to 2 pm
Perfect for the littles who love animals, Farm Country will host a toddler straw maze, ghost scavenger hunt, and will have outdoor yard games for the family to participate in during Barnyard Boo. Don't forget to dress up – take pictures with the farm animals who are also in costume during your visit!
Cornbelly's is home to one of the largest Halloween festivals in the state.  Cornbelly's isn't just about the maze – it's a stunning fall festival, offering a wide range of activities and attractions that will keep the whole family entertained. With activities like apple blasting, pig races, rope courses, and a pumpkin patch, there's something for everyone to delight in. See the full list of attractions and activities to explore here. Want a discount? Use code BELLY23 upon checkout to save $2 on each ticket! 
This activity is for the older kids and teenagers in the family that can handle the scares. This Halloween experience has over 23 immersive haunted scenes sure to make you jump. View the haunt calendar here to see what nights Insanity Point is available.
Thanksgiving Point in Lehi, Utah has all the perfect Halloween activities for you and your family to enjoy. See you soon, and happy Spooktober!