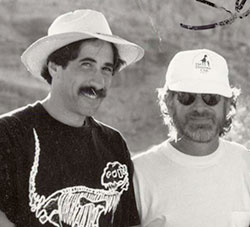 Meet the man behind the Dinosaur Island magic, "Dino" Don Lessem at these upcoming events. These events have limited availability and will sell out quickly – reserve tickets now!
Fossil Exploration with Dino Don
July 1 | 11:30 am – 12 noon
Hear "Dino" Don Lessem dive into ancient life during this interactive presentation. Get expert insights on the excavation process, dinosaur anatomy, and more!
Ashton Gardens Visitor Center, Garden Room
$5 per person (Does not include Dinosaur Island admission)
Dinos Debunked
July 1 | 9-9:30 pm
This appearance will happen just before our Outdoor Movie Series showing of Jurassic Park
Learn the inside scoop of the very first Jurassic Park movie from the on-site expert himself! Dino Don will talk about his experience working with Steven Spielberg plus will explain the inaccuracies within the film and the movie series.
Ashton Gardens, Waterfall Amphitheatre
FREE for Thanksgiving Point members and included with Ashton Garden/Outdoor Movie Series admission.
Select 'Outdoor Movie' time slot
Dinosaur Island
May 28 – August 27 | Ashton Gardens
A prehistoric adventure inside the Ashton Gardens. See over 27 life-sized animatronic dinosaurs come to life at this epic summertime event.